NUMBER PLATE LED MODULES for Toyota 86 2x T10 Lights LED FT86 Scion FR-S FRS Subaru BRZ
NUMBER PLATE LED MODULES for Toyota 86 2x T10 Lights LED FT86 Scion FR-S FRS Subaru BRZ
Out of stock
Product Description
FULL LED MODULES (REPLACES THE HOUSING AS WELL)
PERFECT FOR PEOPLE WITH LARGE PERSONALISED PLATES THAT OBSTRUCT THE STANDARD LICENSE PLATE LED LENS
LED LICENSE PLATE CONVERSION KIT FOR TOYOTA 86, SCION FR-S & SUBARU BRZ (GT AND GTS)

This kit REPLACES the stock modules COMPLETELY with super bright SMD LED boards, 24 LEDs per side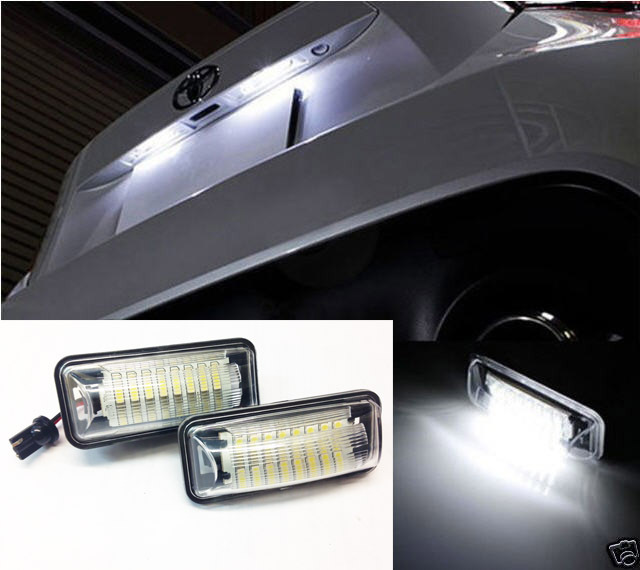 DIY & 86 REFERENCE GUIDES CLICK HERE:  
http://www.86forums.com.au/index.php?/forum/33-do-it-yourself-diy-guides/ 
 
* Also Fit : Subaru Impreza Fourth generation 2011-Present 4-Door Sedan 5-Door Wagon
Subaru WRX 2011-Present and WRX STi Wagon Model
Subaru Legacy 2010-Present Fifth generation BM BR Model
Subaru Crosstrek 2013-Present Model
* Brand New LED License Plate Lamp / 24 LED , Plug and play , easy to fit
Sick of having to look at that horrible yellowed orange factory lighting? Replace them with Super white LEDs for a more modern look. 
THIS REPLACES THE ENTIRE BULB HOUSING AND LENSES (not just switching to bulbs).. 
There are 24 Leds per side, customised to suit the 86/BRZ license plate lights, using super 24x white SMD LED. Adapter plug fits perfectly for the 86, but may suit other models. Full pictorial step by step guide available, as we did this on our own 86!! Full kits for GT and GTS lighting upgrades, and other 86 related items are also available here: 
CLICK HERE FOR MORE 86/BRZ/FR-S ITEMS!
And you wont need to ever replace a plate light again, and they are a hell of a light brighter too
Physical Construction:      24 SMD LEDs per side
Dimensions:                     Factory size
** SPECIAL NOTE: Buy more items and postage is combined to one shipping price!! So do some more shopping!